Skeena Valley Golf & Country Club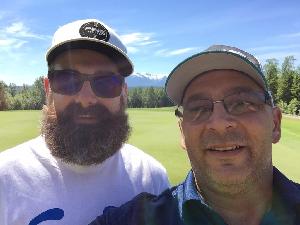 Congratulations and thank you to
Germain & Rob!
They golfed from 5:00AM to 8:45PM! They golfed 7 rounds each, for a total of 252 holes, with 3 Eagles and 36 Birdies and had the following scores:
Germain: 71, 69, 71, 71, 70, 69, 70
Rob: 83, 87, 87, 86, 85, 89, 86
ALS Society of BC Mission Statement:
The ALS Society of BC is dedicated to providing direct support to ALS patients, along with their families and caregivers, to ensure the best quality of life possible while dealing with ALS. Through assisting research we are committed to find cause of, and cure for Amyotrophic Lateral Sclerosis (ALS).
The ALS Society of BC has three principal objectives:
To provide direct support to patients, their families, and caregivers through our services including the equipment loan program.

To raise funds for patient services & research.

To increase public awareness and understanding of ALS.
Charitable # 10670 8985 RR0001
View More