Life is Precious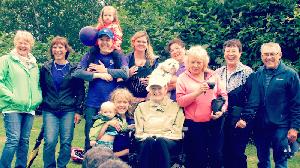 Hello everyone,
My mom Colleen Kirkpatrick's diagnosis with ALS coincided with the birth of my son Nolan. In the few times I saw her just before and during my pregnancy we started to become aware that something was wrong. The first indication was her inability to open a bottle of water. Of course , as most of us do, we explained it away, as nothing. Nobody ever wants to believe there is something really wrong. For if there is, then, what can we possibly do about it?
The ALS society, is an INCREDIBLE, caring support and resource for people who are coping with the many perplexing ways that this devastating disease can manifest. I am ever thankful that they were there for our family, and are there for others.
I hope that they will come up with a cure for this horrible disease so that no one will ever have to watch their loved one go through what my mom went through. Watching with wide eyes and joy the rapid development of my healthy newborn son; in combination with the horrifying equally rapid deterioration of my mother, was a physical & emotional rollercoaster ride to say the least. It was shocking in an acutely bittersweet way, that is impossible to describe.
Moms form of ALS started in her hands, and moved up her arms, into her throat. In a short time she could not communicate clearly, she could not make any use of her hands to feed herself, drink, or for personal care. She opted to enter a full care facility early, but even before diagnosis, living alone, she was struggling quite a bit, unable to open a milk carton, or use a can opener, you can only imagine. Then within a few months, at the care facility she had a feeding tube surgically installed, which was actually fortunate because within a couple months she could hardly swallow a sip of coffee anymore. Eventually we came to understand that time was running out, but you never know for certain with ALS. I think about her everday, and I am grateful for the trips we took to see her, that she got to know her grandson a little and he got to know her, and that I got to say goodbye. Mom's suffering ended, just before my son turned a year an half old, on June 16, 2016.
If you can even begin to imagine having no use of your hands and arms for even 1 hour of your day, let alone 24/7, and almost the complete loss of your speech, I'm sure you can understand the importance of contributing to this society, which seeks answers, a cure, and gives extremely valuable support to people with this debilitating disease.
Thank you for taking the time to read my story. I hope you will consider contributing to this important cause.
Sincerely, Holly Ulrich
The WALK for ALS is the largest volunteer led fundraiser for ALS across the country. The WALK for ALS is about local communities coming together to raise funds and celebrate hope for a future without ALS. Funds received support our vision: supporting Canadians living with ALS and investing in research to make ALS a treatable, not terminal disease.

Please help us end ALS by signing up for the WALK or making a donation.

On behalf, of the ALS Society of BC board, staff, volunteers, ALS patients and their families, we thank you for your support!
View More
Achievements

Kickstarter Badge
I Donated
Fundraising Honor Roll
Hannah, Kevin, Chloe and Jake Clarkson
$100
Jim & Bonnie Collins & Martin
$100
Krispin, Finn, Erin and Karl
$60
Garry and Nadean Johnson.
$50
Lillian & Links Leiner
$50