Seymour Golf & Country Club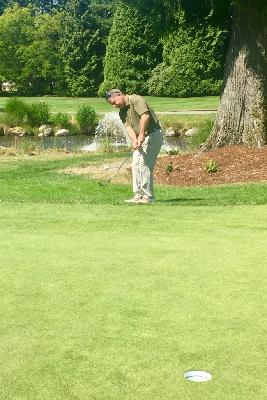 Congratulations and thank you to Dale and his staff! They golfed 167 holes in total!
Dale has been participating in the Golfathon for ALS for 13 years. Since the end of 2017, the Seymour Golf & Country Club has raised $215,000 for ALS!
Please accept this thank you as my appreciation for your donation to the ALS Golfathon that I participated in two weeks ago (sorry it has taken a while getting this note of thanks to you – with the opening of the driving range and all the events occurring in the last couple of weeks, I have fallen behind!) To date I have received 143 pledges from Members and Staff of Seymour G&CC, friends and fellow golf industry associates. Thank you!!!
I started my day with a 3:30 alarm call and teed it up Thursday morning at 4:35 with one of my Assistant Professionals, Colin Lavers (Colin joined me for my first three rounds that day – thank you Colin!!). We were on the fifth tee when the sun officially rose at 5:08 that morning. We played our first round in 2 hours and 20 mins! I eventually called it quits at 9:40pm and had played 95 holes!
The weather was outstanding as we teed off with light sweaters and very quickly shed those in the first round. The day was sunny, warm and was probably the best weather I have experienced for any of the last 12 Golfathons.
How was the golf you are wondering?
I had rounds of 79-76-76-77-76 (and 1 under for my last five holes of round #6) for an average of 76.8. With the busyness of this season, this was the second time I played the golf course this year. My short game wasn't very sharp and I made a lot of "middle of the fairway" bogeys but that is what one gets when you don't play much – funny how we get what we deserve in this game!! All in all, it was an enjoyable experience and it sure beats working in front of a computer!!
Some additional fun facts:
Special thanks go out to Abby Cromar, Marg Durst & Kim Cross who let me join them for my fourth round of the day. We had lots of fun and it should be noted that we (coincidentally) dressed in coordinating colours. I was definitely the thorn between roses!

I lost one ball and made 3 double bogeys

I went through 7 water bottles!

Hit it into the left fairway bunker on the sixth hole every round – "lessons are repeated until learned"!

I packed food for the day and even with all the food in the cart, the crows only managed to get a hold of a granola bar. Other than that the North Vancouver wildlife was shut out from raiding my golf carts!

I used 11 sand and seed bottles and exhausted two power carts

I had 10 birdies and 1 eagle

Total elapsed time of golf was just over 17 hours

I made it through the entire day without drinking even one Coke - most of my staff didn't believe that was possible!

Aside from a few aches and pains, the next day was a regular day – I was on the first tee starting the second round of our Senior's Club Championship at 8:00am on Wednesday.

Went through six Advils which is definitely a miracle drug in my opinion!

I wore a Fitbit and achieved my normal daily 12,000 step goal by the 14th hole of round 2
o

Total number of steps was 39,681 steps
o

Climbed the equivalent of 122 floors
o

Burned off 5343 calories
o

Walked a total of 17.41 miles (even though I did ride in a cart for the 95

holes)
Played 2 and a half rounds by 10:30am
Similar to past years, I had hoped I would play more holes than e-mails received that day. I am happy to say I did achieve this goal (but it was close) with 84 waiting for me on Wednesday morning!! Aughhh!!
Most importantly, I am very proud to report that through your support I was able to raise a record $29,040.00 (and pledges are still coming in) for the ALS Society of BC. Over the past eleven years, Seymour has led the Province in raising over $267,000 for the ALS Society!! Thank you so much!!!!! Please know that you are making a difference both for ALS patients and in the lives of their family members!!
I am hopeful to collect the pledges over the next couple of weeks. Your pledges can be settled via a charge to your Seymour Club account, a check made payable to the ALS Society of BC or cash. For the Seymour Members who are receiving this email, if you wish your pledge be charged to your Seymour account, we hope to have this charged on your July statement. If you would rather pay via cash or check (assuming you haven't given us prior direction) kindly reply to this e-mail with your wishes. For those of you, who have already settled your pledge, thank you. (I am sending this note to everyone who made a pledge - I recognize some of you may have already dropped off your pledge money, given us direction to charge your Club account or made your donation through the ALS website).
Here is a brief message from Ms. Wendy Toyer the Executive Director of ALS Society of BC:
"Words cannot adequately express my sincere gratitude for your outstanding support of people living with ALS in British Columbia. It is because of your support the ALS Society of BC can offer numerous services to enhance the quality of life for people living with ALS throughout BC and the Yukon at no cost to them, and with no wait list. Without support, the cost per family would be between $150K - $250K in direct and indirect costs throughout the course of the disease.
To give you some idea as to how much we can do with the funds that are raised, with $10,000, we can:
•

purchase 3 pieces of lift equipment or service 10 power wheelchairs for equipment loan program,
•

send 10 children of ALS patients to Camp Alohi Lani,
•

or provide 89 medical appointment trips to those patients who are unable to provide transportation themselves.
It is because of your support, ALS BC can dare to dream big! Thank you.
From the bottom of my heart, thank you. Your support is making a huge difference in the lives of people affected by ALS.
Wendy Toyer, Executive Director
Thanks again for your support!!! The ALS Society of BC will be issuing tax receipts and sending them directly to each of you.
ALS Society of BC Mission Statement:
The ALS Society of BC is dedicated to providing direct support to ALS patients, along with their families and caregivers, to ensure the best quality of life possible while dealing with ALS. Through assisting research we are committed to find cause of, and cure for Amyotrophic Lateral Sclerosis (ALS).
The ALS Society of BC has three principal objectives:
To provide direct support to patients, their families, and caregivers through our services including the equipment loan program.

To raise funds for patient services & research.

To increase public awareness and understanding of ALS.
Charitable # 10670 8985 RR0001
View More
Donors
Bosa Development Corporation
$1,500
Mr. Steve Donald Morrey
$250
Jacqui & Peter Manley
$250
Mr. & Mrs. Brad Lambert
$250